Research elite honoured with awards
Five of the most talented young researchers in the country received an EliteForsk research award of DKK 1.2 million.
Danish research received some well-served encouragement when HRH Prince Joachim and Higher Education Minister Morten Østergaard presented the five EliteForsk awards to some of the most talented young researchers in Denmark on 9 February.
Each award is worth DKK 1.2 million of which DKK 200,000 is a personal award and DKK 1 million is to go towards research activities.
The awards were presented shortly after the EU's research and innovation ministers had gathered in Copenhagen to host informal discussions on what will be the world's largest research programme Horizon 2020.
– Europe's future is dependant on research and innovation. The EliteForsk awards honour some of our finest young researchers and research itself. We are in the middle of an economic crisis and it is crucial that we create future jobs in Denmark and Europe. Research cooperation with Europe and the rest of the world plays a significant role in solving many of the great societal challenges we're facing. By strengthening elite Danish research, we are also strengthening growth in Denmark in the long-term. We are showing our appreciation of the recipients with these awards and encouraging them to continue their important work, says Morten Østergaard.
The five EliteForsk award recipients are: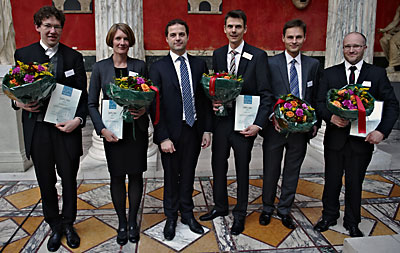 Morten Østergaard also presented EliteForsk travel scholarships worth DKK 300,000 each to 17 young PhD students that have excelled in their respective fields.
The Danish Council for Independent Research also used the occasion to honour the researchers who have received grants from the Sapere Aude research career programme – a total of 45 Young Elite Researchers and 32 Research Leaders. Meanwhile the Danish National Research Foundation honoured 11 new centre leaders.
The scholarships and awards were presented at the Ny Carlsberg Glyptotek in Copenhagen.
Read more about the award, scholarship and grant recipients at:
---
Further information please contact:
Press and communication adviser Steen Bruun Jensen, Danish Agency for Science, Technology and Innovation, tel: +45 4132 6030 or email: sbj@fi.dk
Press officer Ingeborg Nielsen, tel: +45 2211 0200 or email: imen@fivu.dk