Nordic cooperation with perspective
All Nordic ministers for education and research met in Copenhagen on November 2nd to discuss common education and research issues.
– There are great perspectives in cross-Nordic cooperation within education and research. Our countries have many similar challenges and can benefit from each other's initiatives and solution models. We also want to brand the region as an important global player within education and research, says Higher Education Minister Morten Østergaard.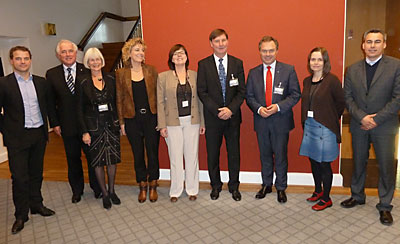 Pictured from left to right: Morten Østergaard, Denmark; Halldór Ásgrímsson, Secretary General for the Nordic Council of Ministers; Tora Aasland, Norway; Christine Antorini, Denmark; Britt Lundberg, Åland; Jukka Gustafsson, Finland; Jan Björklund, Sweden; Katrín Jakobsdóttir, Iceland and Palle Christiansen, Greenland. (There was no ministerial representative from the Faroe Islands as government negotiations were ongoing.)
In the past six months, a working group has looked at the content and organisation of future Nordic cooperation within research and innovation. The former Norwegian education and research minister, Kristin Clement, presented the group's preliminary recommendations to the ministers.
The recommendations focus especially on the increased value the Nordic countries could achieve through cooperation on research infrastructure. This could include bio banks and register-based research, which could strengthen the Nordic brand globally and make the region an important international player in research areas where the Nordics already excel.
Demographic changes with an increased elderly population require new solutions. The Nordic ministers were therefore very interested in a Norwegian presentation on these challenges faced by the Nordic welfare education system – for example within the social and health sciences. Education must adapt to new requirements and there must be cross-profession cooperation to solve challenges in the most effective manner.
The Danish higher education minister, Morten Østergaard, stressed that better collaboration between public and private stakeholders in the welfare field could contribute to new innovative solutions. There is a need to attach more prestige to welfare education so that it attracts more students, to better connect graduate programmes and possibly extend internship programmes across Nordic countries.
---
Higher Education Minister Morten Østergaard can be contacted via press officer Charlotte Holst, tel: +45 2211 0200 or email: chhh@fivu.dk.